London Dance Exchange
By Shu - 11:30
Yay I'm in the mood for more blogging~ But not much has transpired over the past week that warrants a post so I shall blog about London trip last December!

I think one of the best things about being in Dancepointe is the many opportunities that the teachers find for us, this being one of them - we went for a dance immersion with Central School of Ballet in London. I'm not too sure how well it went though, details on that later, but in any case we did have quite a good time exploring the area, and this time I got more time to wander around and explore (unlike during Reach Cambridge where we were just rushing everywhere...)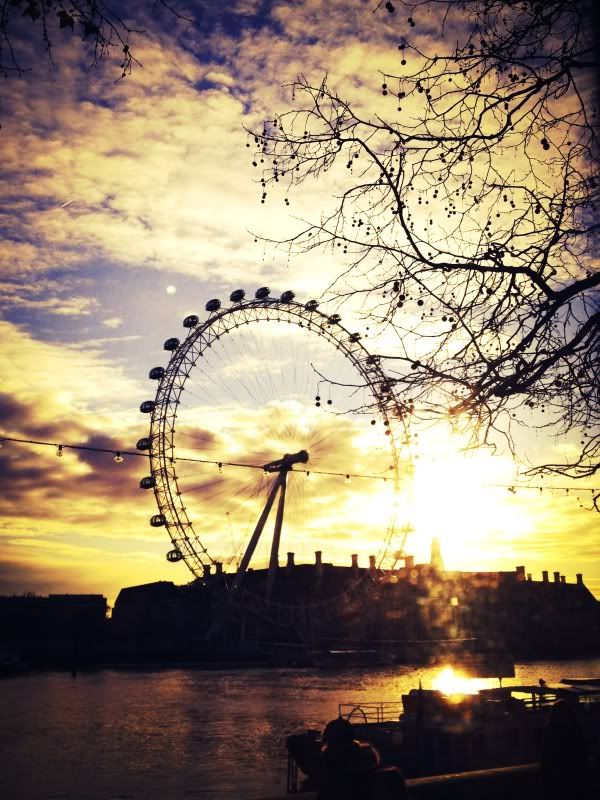 London Eye
This was not fantastic, as with most of the must-see tourist attractions (let's not get me started on the horse guards parade at Westminster). The queue was damn long (but thankfully fast moving) and it was a very cloudy day so the ambience was not very good. Anyway London from this point is just very flat and the aeriel view is not very visually appealing so please skip this all your future London visitors.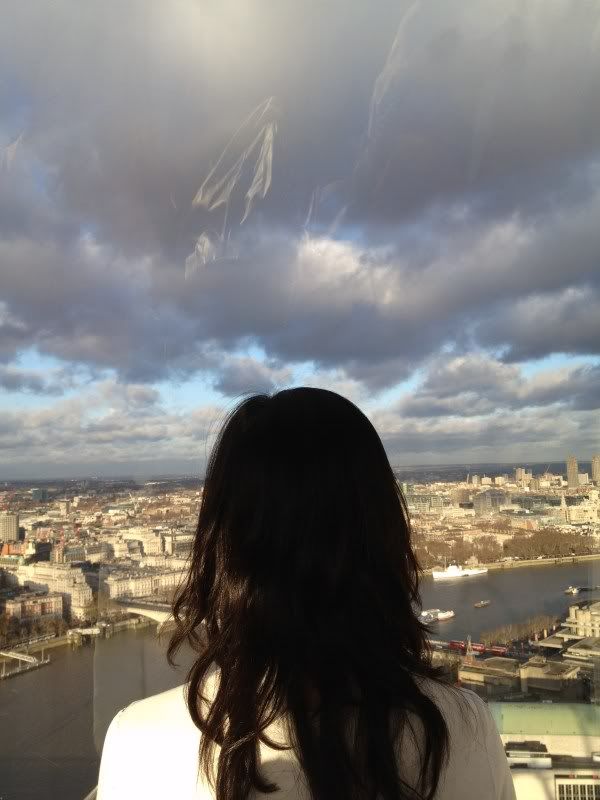 View from London Eye
You see what I mean... It's just this. For 30min or so. Derp.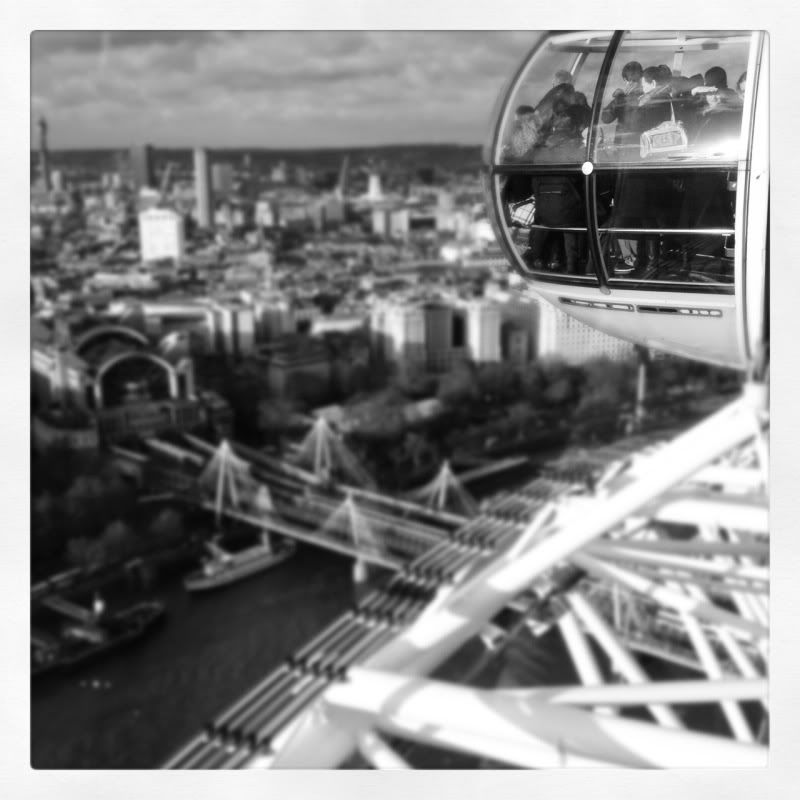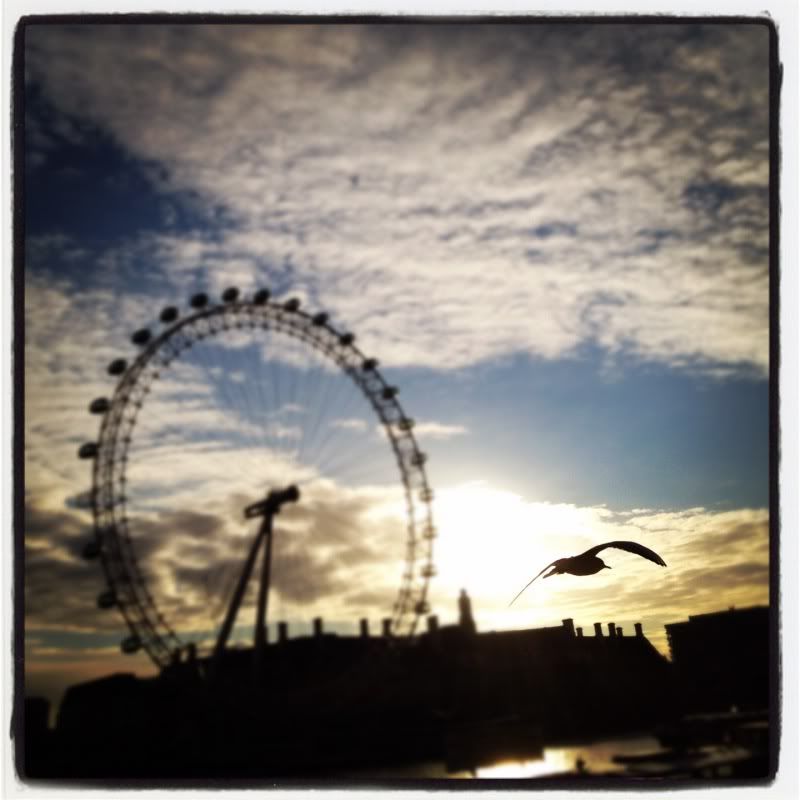 But, that being said, the structure is VERY photogenic.
So this is how they attract all the tourists haha...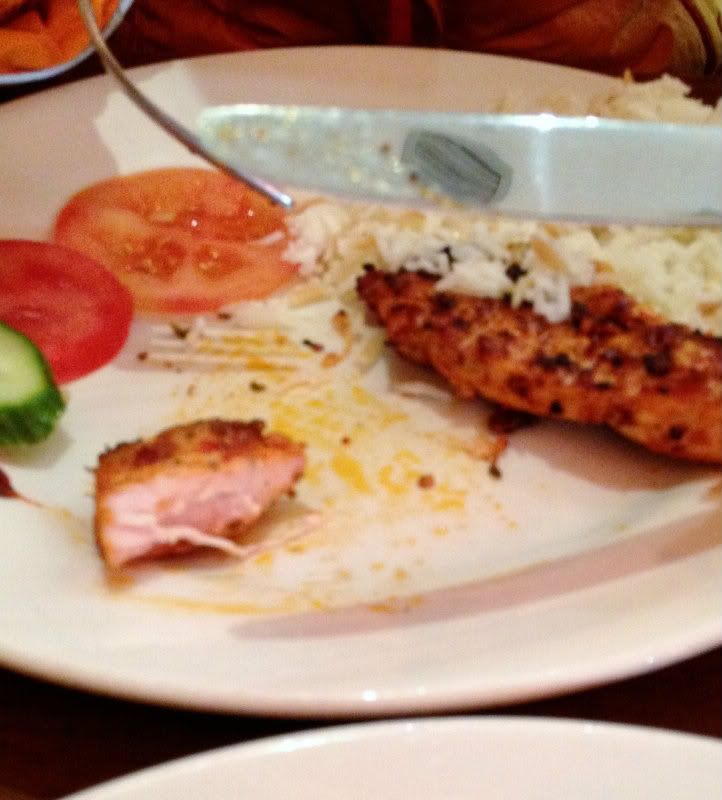 Turkish fare for lunch!
There's this super good Turkish food in this cafe around the London eye. Didn't take note of the name, darn, but anyway the rice is super good and well flavoured so yum! :D Will visit it again when I'm in London again at the end of this year (this time to study lololol)
P.s sorry the photo is horrid. ):



British Museum
This was pretty good. Pity we only had 2 hours to explore this as the museum is HUGE and I only managed to cover 1.5 exhibits haha. There was one about the history of clocks and one about The Great Wave off Kanagawa (the famous Japanese painting). The featured exhibit then was some Egyptian history thing which I tried to be interested in for half an hour with Teesh but I gave up and disappeared to the other rooms haha. History is not my thing. :/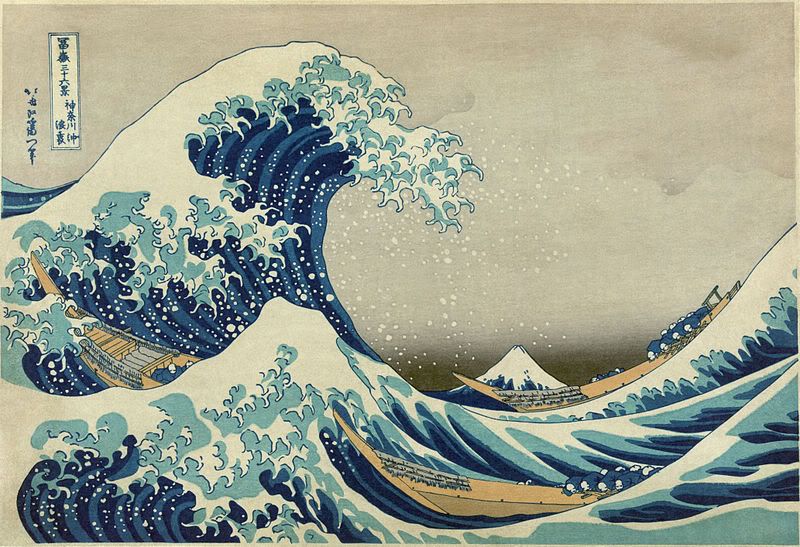 The Great Wave off Kanagawa by Hokusai
Haha this painting is so iconic. I bought a reprint from Japan when I went there 3 years ago but I didn't really know the history behind that painting until I chanced upon this exhibit! Apparently it's a woodblock print, so what actually happens is that this entire painting is printed with carefully carved pieces of wood. So it's like using many giant stamps essentially. And what's quite cool is also how this painting is part of a collection named "36 views of Mount Fuji" and yes if you look carefully Mt Fuji is in the background beyond this monstrous wave.
The collection is pretty interesting actually, for every painting Mt Fuji is like lurking the background lolol it's like one of those troll comics where in every page there is this joker hiding somewhere. HAHAHAHA.
History of Clocks Exhibit
No photos, thanks to the lazy Shu, but anyway I really liked this exhibit but I DIDN'T HAVE TIME TO FINISH THIS RAWR. They displayed various versions of clocks from ancient civilisations to now. So it's like a timeline of time-recording instruments... right. Anyway there was this giant structure accompanied with this interactive screen that showed you how clocks function. Somehow though, after spending very long at that structure I couldn't manage to figure it out hehe. Oops.
Interestingly, *trivia* the French and the Chinese used to use a 10 hour clock, so the units of time would be in 10s, just like numbers. Very convenient I think cause when someone says 5.2 hours, for example, for a second or two I will always be wondering if he meant 5 hours 20 minutes or 5 hours 12 minutes -.-"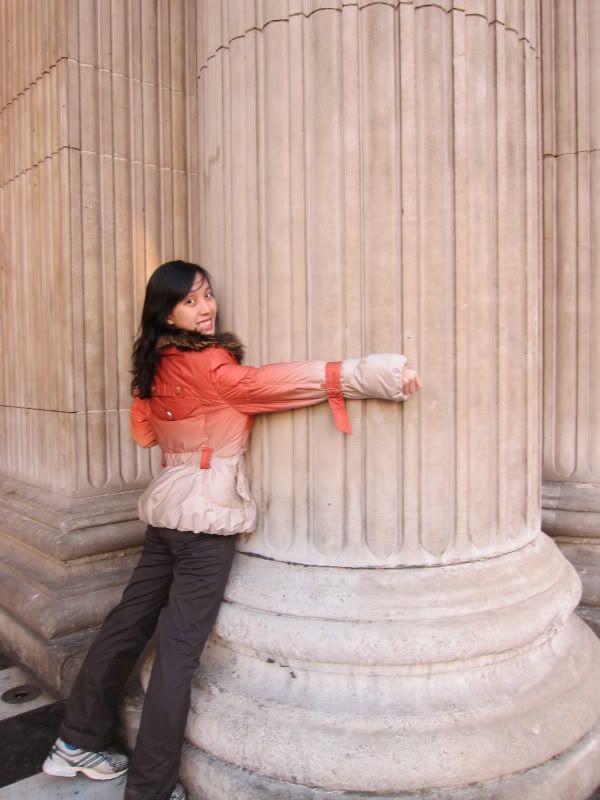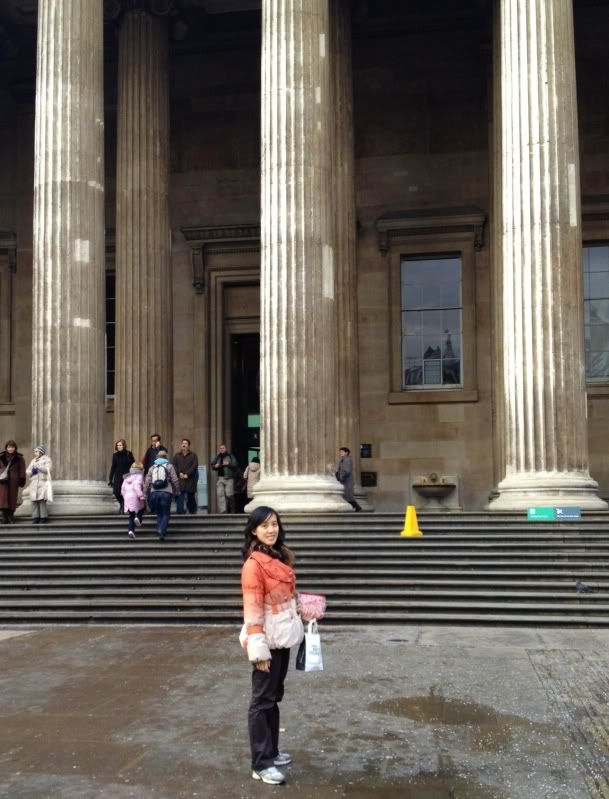 Shu @ British Museum
Touristy shots, oh yeah... The structure is HUGE. As if I don't already feel tiny enough in a European city! Actually, I dont think the first picture was taken at the British Museum lolol but aiya so many buildings in London have these columns anyway. Hehe.
Royal Opera House
We went to watch Royal Ballet perform Sleeping Beauty too. I can't tell you much about it though, because I, and most of the dance troupe (incuding the teachers), fell asleep. Yay. So much for this being a dance immersion program. But anyway we were all really quite shagged that day cause we had super many dance classes in the morning/afternoon. I didn't look at the ticket price then though, and now that I realise the ticket was 53 pounds, OMG I should not have fallen asleep.... EEK.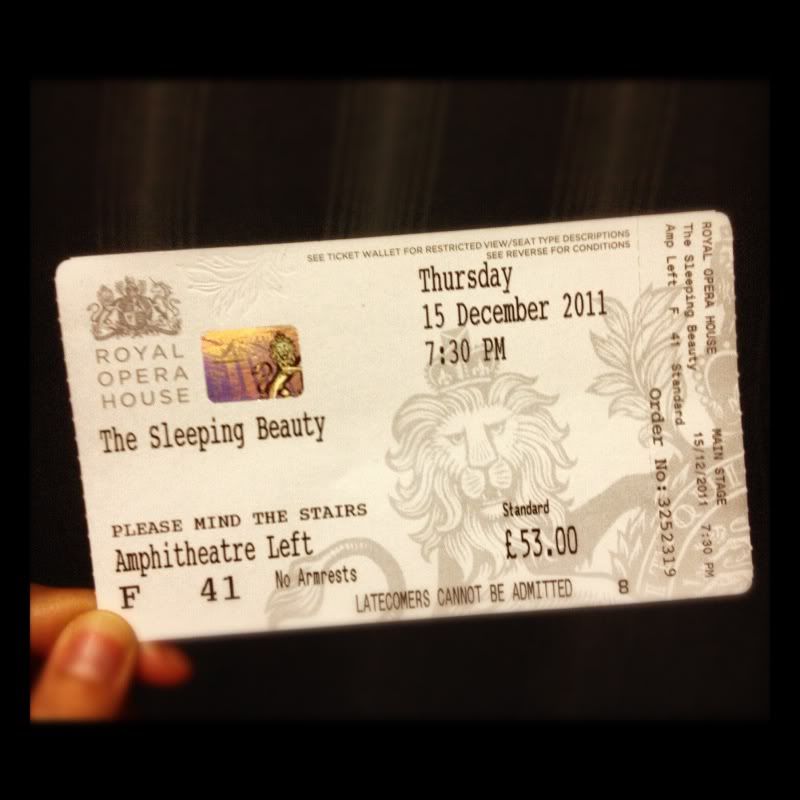 Le expensive ticket!!! :<


The building is really pretty though, and there's this glass house ("Flower Hall") which is mega pretty and houses a bar/cafe in natural light. We managed to get a backstage tour too, and it is really quite a maze inside. It's so huge and there are I think 4-5 sections to the backstage which are all colour coded (so depending on which section you're in the walls are completely green, or purple, or red, etc). We got to peer into the set-making place too, and it's pretty fascinating to see the sets in natural light and half-complete. And yes, the sets are HUGE. The room itself has a ceiling 2-3 storeys high I believe.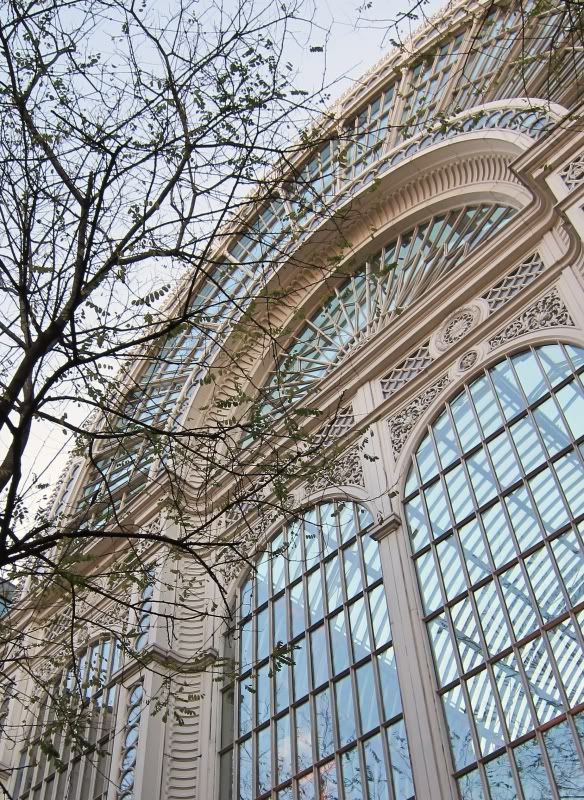 Exterior of Flower Hall
Super pretty! My photo does not do this justice. Must visit end of this year again!



Central School of Ballet
And the main attraction of this immersion is obviously supposed to be the dancing at Central School of Ballet. So in essence we did ballet, jazz, contemporary, musical theatre and pilates in various permutations every day for a week I think. Pilates was fun, mostly cause we just had to lie on the floor and do stuff, and most of the time I will end up falling asleep on the comfy cool mat so yay. The choreograhies were sometimes interesting, but I didn't really find this experience very enriching cause seriously, most of our standards kinda suck and then the teacher gets bored teaching us and then the quality of the classes just deteriorate. Anyway that's like one of the reasons why I don't often go for ballet class anymore. There's no impetus to improve cause everyone's just languishing in the same crappy state and the teacher is not strict enough. People just waltz in late all the time and nothing much is really being done besides dishing out the choreography and us just learning it. I miss Fee ): She's one of the best dance teachers I've ever had aww haha! Anyway, rant over. Haha.
Photo time~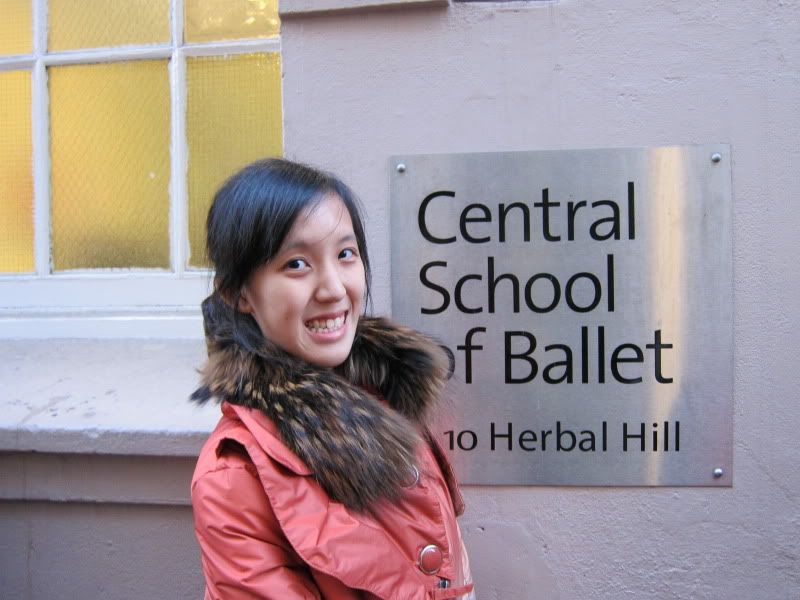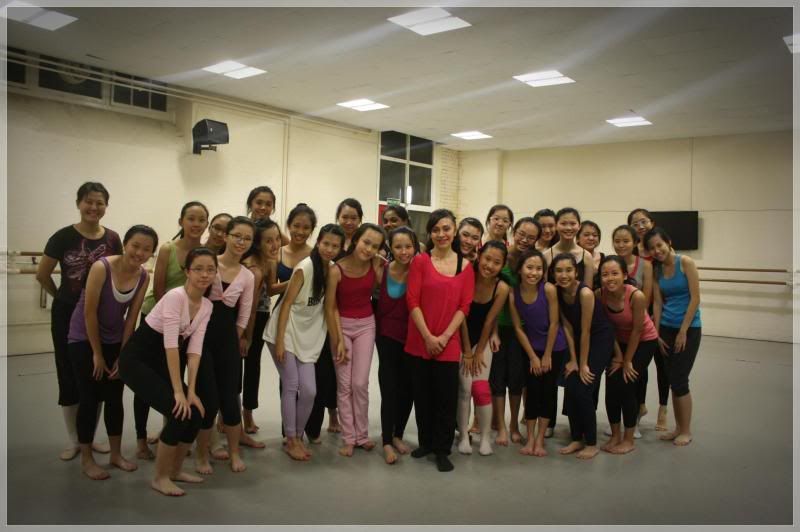 During Jazz class!
Probably my favourite class cause we danced to Paradise by Coldplay! :D
Plus the teacher is soo full of energy and really nice too (:


Can't wait to visit London again this year, but now it's um not really going to be a visit! It'll be my home for the next 3-4 years and YAY I AM SO EXCITE because London's such an interesting place. Fee recommended a dance studio there too so I'll probably go try it out and NOT EAT SO MUCH IN LONDON SO I PROVE MY MUM WRONG... My mum says when I come back I won't be able to fit into my clothes anymore ): RAWR

Anyway, the end of photo heavy post. :D See you again! x